Will I Have to Register as a Sex Offender if I Was Charged with a Sex Crime?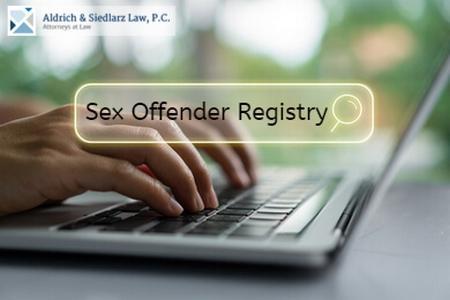 Sex-based offenses are typically punished much more harshly than other types of criminal offenses in Illinois. Someone who is convicted of a sex crime such as sexual abuse, rape, or possession of child pornography may face significant jail time in addition to other criminal penalties. However, some of the most significant consequences of a sex crime conviction do not involve the criminal justice system. These consequences come in the form of irreparable damage to the offender's reputation.
Being listed on the Illinois Sex Offender Registry can significantly impact your ability to gain employment and secure housing. It can devastate your personal and professional reputation. Understandably, many people accused of sex crimes wonder if they will have to register as a sex offender.
Criminal Charges Versus a Conviction
It is crucial to remember that being charged with a crime is not the same as being convicted of the crime. Being charged with an offense means that the state is formally accusing you of committing the crime. Fortunately, criminal defendants are considered innocent until proven guilty in the United States. The state must prove that you committed the offense "beyond a reasonable doubt" to convict you and require you to register as a sex offender. An experienced criminal defense attorney can help you build a strong defense against the charges. Your attorney will also help you understand whether it is better to accept a plea deal or take the case to trial.
What Crimes Require Registration on the Sex Offender Registry?
Most misdemeanor and felony convictions involving sex or nudity require the offender to register on the Sex Offender Registry. You are required to register as a sex offender if you are convicted of an offense related to:
Child pornography

Sexual assault

Sexual abuse

Solicitation of a child

Sexual exploitation of a child

Juvenile prostitution

A third or subsequent conviction for public indecency

Kidnapping

Child abduction

First-degree murder
Most sex offenders must register annually for ten years. Individuals classified as "sexual predators" must register annually for the rest of their lives. Those who are deemed "sexually dangerous" or "sexually violent" by the court must register every 90 days for life.
Contact a Lombard Criminal Defense Lawyer
When someone is a registered sex offender, their name, picture, and personal information are listed on the sex offender registry website. This information is available to anyone with access to the internet.
If you have been accused of a sex crime, contact a DuPage County criminal defense attorney from [[title]] for help building a strong defense. Call 630-953-3000 for a free, confidential case assessment.
Source:
https://isp.illinois.gov/Sor/FAQs