Celebrating Divorce with a Cake is a Rising Trend, but is it Right for You?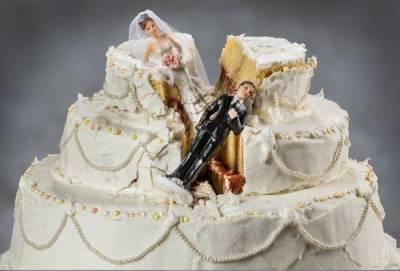 Divorce is generally seen as an emotionally painful process, but some divorcees are putting a new spin on the traditionally isolating event. Rather than focus on the sadness and grief, they are celebrating a new beginning with their families and friends with parties and cakes. Some also let their vindictive side come out and purchase voodoo gingerbread cookies or take anti-wedding photos (some have even gone so far as to torch their wedding dress). Is this an option you should consider, or is this coping mechanism taking things a little too far?
What is a Divorce Celebration?
Each divorce celebration is unique. It is often based on the divorcee's preferences, personality, and situation. While one person may be angry and full of resentment because of a cheating spouse, another may be ready to simply move into the life they have been wanting and dreaming about for years. The former might have a gruesome bride and groom on a wedding cake and take photos of burning a wedding dress. The latter might have a calmer party, perhaps with a cake the commemorates the years they spent with their spouse but then holds a small ceremony to embrace the new.
Is It Right for You?
Truthfully, only you can decide if a divorce celebration is right for you. You may need a day to just vent and release all the anger, and the support of your friends and family might be helpful. On the other hand, you may be more of a private person, and you may require time to reflect on the past and your future.
If you fall in the latter group, you may be better served by taking a trip to somewhere you have always wanted to visit, or perhaps going camping, or taking nature walks to reflect. Whatever your style and personality, it is important to remember that you are not alone in your journey. Perhaps that is the most valuable lesson that divorce celebrations teach – support from family and friends, from counselors and your attorney can all aid you along the way. Embrace the new life and new journey and release the past.
Our DuPage County Divorce Lawyers Can Help
At Aldrich & Siedlarz Law, P.C., we take pride in being a trusted advocate for divorcees. Compassionate, experienced, and committed to your best interest, we will aggressively protect your rights and pursue the most favorable outcome possible. Our DuPage County divorce lawyers offer services in both Polish and English. Schedule your free consultation by calling 630-953-3000 today.
Source:
http://www.13wmaz.com/news/divorce-cakes-a-rising-trend-to-celebrate-separation/439498229