Student Discounts Offered for DuPage and Will County Traffic Tickets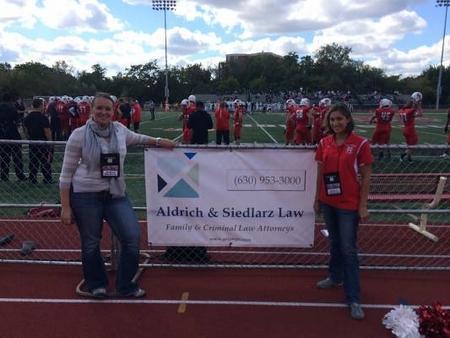 As proud sponsors of the North Central College athletic program, Aldrich & Siedlarz Law, P.C. is pleased to offer student discounts for North Central College students who need legal representation for local traffic tickets in DuPage County and Will County. Not all traffic citations require legal representation. However, some traffic offenses necessitate representation by an experienced traffic and criminal defense attorney, like North Central alumna Jacqueline Aldrich. Moreover, some drivers require attorney representation as a result of their traffic history in order to avoid a suspension of their driving privileges.
Most moving violations, that are not considered criminal misdemeanors, do not require court appearances. There are exceptions to this generalization, however, including but not limited to tickets resulting from traffic accidents and no insurance tickets. If your traffic citation indicates that a court appearance is not required, you have the choice of resolving the ticket by mail or demanding a court appearance. However, it is important to contact an attorney prior to making this determination. If you mail in your ticket and pay the fine, you are pleading guilty to the offense. If you do so and are not eligible for court supervision, you will receive an automatic conviction that will be reported to the Secretary of State. Your only recourse at that point would be to file a Motion to Vacate, which increases the cost of litigation. Additionally, if you are under 21 years of age and this is your second conviction in a 24 month period, or if you are 21 or over and this is your third conviction in 12 months, your license will be suspended for a minimum of 3 months.
If you are not required to appear in court, Attorney Aldrich takes the time to explain whether a court appearance and attorney representation is advisable and advantageous or whether you are a candidate for mailing in your ticket and requesting court supervision (which is not a conviction on your record). Something to consider is that once you request a court appearance, mandatory court fees are added to the fine listed on your traffic ticket, which means the cost of that traffic citation has now doubled. If you receive a traffic ticket that is marked "court appearance required," it is almost always advisable to show up in court with an experienced traffic attorney.
If you receive a traffic citation, contact Aldrich & Siedlarz Law, P.C. for a free consultation. Attorney Aldrich has been practicing criminal and traffic law for her entire legal career and prides herself on providing clients with an honest evaluation of their case and realistic advice on whether attorney involvement is needed. She is proud to offer students of North Central College and other local colleges and universities discounted rates for non-misdemeanor moving violations in DuPage County and Will County. Our attorneys also represent clients in Cook, Kendall and Kane Counties for criminal, DUI and traffic matters.