How Does an Order of Protection Protect Victims of Domestic Violence in Illinois?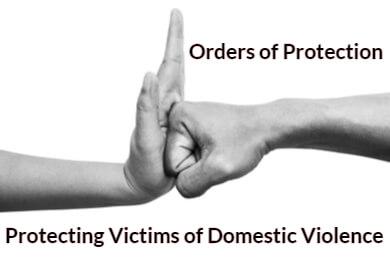 If you or a loved one has been threatened, stalked, or abused, you may be curious about orders of protection. Called restraining orders or protective orders in other states, an order of protection is a legal court order that prohibits the subject of the order from further abusing or harassing the victim.
Many domestic violence sufferers are aware of protection orders, but they do not understand how a protective order can actually benefit them. They may assume that the abuser will ignore the order and continue his or her harmful behavior. They may also worry that getting a protection order will only anger the abuser and worsen their situation. Read on to learn about how orders of protection work in Illinois and how seeking an order of protection can help you and your children escape an abusive situation.
Emergency Orders of Protection
An Emergency Order of Protection (EOP) is a court order that is intended to prevent further acts of intimidation and violence against the petitioner. An EOP may:
Prohibit the abuser from coming to the victim's home, school, or workplace

Require the abuser to temporarily move out of his or her home if the victim and abuser live together

Require the abuser to surrender his or her guns

Prohibit the abuser from coming within a certain distance of the victim or his or her children

Prohibit the abuser from calling, texting, or otherwise contacting the victim
These are just some of the provisions that may be included in an EOP. The protection order can be customized to your particular situation.
One important feature of an EOP is that it may be granted on a "per se" basis. This means that you can seek the order of protection without the subject of the order knowing about it. The EOP lasts up to ten days, which gives the victim time to arrange plans for his or her long-term safety. The petitioner may receive a Plenary Order of Protection by attending a hearing and presenting his or her reasons for seeking protection to a judge. A Plenary order lasts up to two years.
What if the Abuser Ignores the Order of Protection?
Orders of protection are legally enforceable court orders that the subject is bound by law to comply with. If the subject of an order of protection violates one or more of the terms of the order, call the police immediately. Violating an order of protection is a criminal offense punishable by up to 363 days in jail. Violating an order of protection a second time is a felony offense.
Furthermore, getting an order of protection creates a crucial piece of evidence in any future legal proceedings such as a child custody dispute or divorce.
Contact a Lombard Protection Order Lawyer
The skilled DuPage County family law attorneys at Aldrich & Siedlarz Law, P.C. understand that seeking an order of protection can be an intimidating process. We can help you petition the court for an emergency protection order, represent you during a hearing for a Plenary order, and guide you through a wide range of other family law matters. Call us at 630-953-3000 today for a free, confidential consultation. Attorney Marlene Siedlarz speaks fluent Polish.
Source:
https://illinoisattorneygeneral.gov/women/ordersofprotection.html#:~:text=Violation%20of%20an%20Order%20of,member)%20can%20be%20a%20felony.