Family Reunites Every Year for Photo Shoot, Proving Amicable Splits are Possible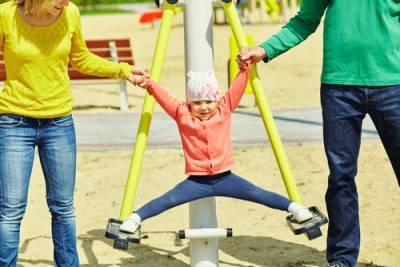 Parents often fear divorce because they worry about how their children will handle the split. One family is proving that the coping power of kids often rests in the behavior of their parents. Learn more about this intriguing couple, and how it is that they have managed to work through the divorce while still raising a happy, healthy toddler who knows, without a doubt, that his mom and dad both love him.
Family Comes Together for Annual Photos
During their marriage, the couple took annual family photos together; they even did one while the mother was pregnant with their now 4-year-old son. When they decided to divorce, they made a vow that the tradition would not die. The decision to carry on the family tradition was based, in part, on the mother's childhood experience.
The mom says her parents divorced when she was young. It was that divorce that left her with only a few photos of her entire family together. She did not want her son to have the same experience. So, each year, the dad travels from his home in Alaska to the mother's home in South Carolina, and they meet up for the photo shoot. It is the one time that their son has them both together, in one place.
Divorce is About the Parents
While their decision may seem a bit unconventional, it also makes perfect sense. Studies have shown that children cope best with divorce when their parents work toward an amicable split; this is not to say they did not experience challenges; quite the contrary, in fact.
The mother recalls the first couple of years and how difficult they were, but she says that the practice of coming together for the sake of their son has truly paid off. They get along, no longer struggle with that awkward feeling and their son is his happiest when they are all together. He uses that time to ask lots of questions and requests frequent swings in the air.
Our DuPage County Divorce Lawyer Can Help You Work Toward an Amicable Split
If you are planning on filing for divorce and want to achieve an amicable split, Aldrich & Siedlarz Law, P.C. can help. Dedicated to protecting your family's best interests, our English- and Polish-speaking attorneys will work with you to develop a parenting plan that can hopefully satisfy all parties. Contact our DuPage County family law attorneys to learn more about how we can assist with your case. Call 630-953-3000 and schedule your consultation today.
Source:
http://people.com/human-interest/divorced-parents-reunite-each-year-for-family-photo/